At 01:10 a.m. the telephone by our bed woke us. No, it was not a telephone call. It was emitting desperate chirrups because there had been a power cut. We ignored it and went back to sleep. Now, a bit of background is required; not only for the telephone, but for what happened next.
When we moved in, there was obviously no telephone installed. We contacted France Telecom (now Orange) and to cut a long story short, we finally had a telephone. However, it was not an ordinary telephone, but an Internet phone. In other words, if there's no electricity, there's no telephone either. Which could prove interesting if we need to contact the Emergency Services during a power cut. (Mobile phone reception here is exceedingly poor as well!)
The second part of the background information concerns the aged FIL. First of all, his house has no central heating; instead electric heaters are used, much to the delight of the electricity supply company shareholders. And as he has such a fear of falling down and not being able to get up again, we implemented something known as "Présence Verte". This is a machine which is connected to his telephone, and is triggered by a push-button device he wears on his wrist. When he presses the button, he can talk to the control centre. The control centre then telephones four numbers in sequence: LSS's mobile, the telephone here, M&O, and then Mrs D (one of the carers). If no response is received from the first number, they try the second, and so on. If no response is received from any of the four numbers, they contact the fire brigade.
So, on with the tale.
We were awoken soon after 6:00 a.m. by the lights of a vehicle driving into our courtyard. It was M&O. Apparently the aged FIL had pushed his button, and Présence Verte had swung into action. There was no response from LSS's mobile (poor phone reception here as I mentioned); no response from the telephone here (obviously it was not working due to the power cut); and M&O had sleepily responded to the call. However, they had been unable to gain access to the aged FIL's house because the door was locked (as is usually the case at night). Hence they drove here. LSS explained about the telephone, and assured them she would investigate the problem. Slightly disgruntled, M&O drove home again. (Fortunately this is only the second time in two years they've had to respond).
LSS jumped into the car and drove off to the aged FIL.
It transpired that he had pushed his emergency button because his electric heaters had stopped working.
LSS explained that there had been a power cut, and we were without power as well. The silly thing is, on one occasion during the previous week, the carer had not turned up to get him out of bed and feed him breakfast, and he had simply laid there waiting until lunchtime, not remembering he had an emergency button to press. Whilst at his house, LSS telephoned Neighbour J; she was without power as well. ERDF (the French electricity supply company) was contacted, and they explained they were aware of the problem (a probable lightning strike to a substation), and were investigating.
Whilst LSS was away, I noticed an ERDF van drive past our house. Later in the morning the van returned and the driver asked if there were any overhead pylons on the property. I replied in the affirmative and gave them permission to use the access road between us and the aged FIL.
Later that morning we discovered that one of the ERDF lorries had buried itself in the ditch not far from our entrance.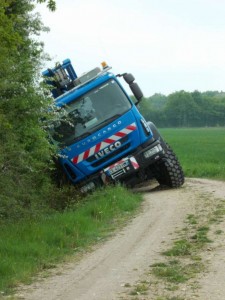 Note the brand new, cellophane-wrapped, unused winch on the front.
I'm pretty sure I could have extracted the lorry from the ditch under its own power by using a combination of the winch and diff-lock. Perhaps ERDF drivers should participate in a Land Rover off-road event as part of their training.
During the afternoon the recovery vehicles arrived.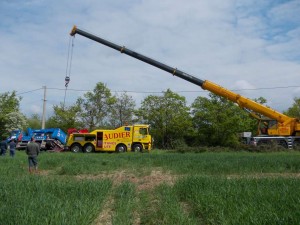 The power finally came back on here at around 3:00 p.m. LSS went to the aged FIL to check, and discovered that his power was still off. Yet another call to ERDF revealed that the case had been marked as resolved, and the technicians were on their way back to Blois. The control centre promised that they would be recalled, and his power was finally restored by 5:00 p.m. I think we need to purchase a generator; we're pretty self-sufficient in everything except electricity, which is needed to power the borehole pump and our two freezers – not to mention the telephone!