Today marks the start of year 5 in France. Doesn't time fly when you're having fun? We've a long way to go yet until the house is complete, but it's certainly comfortable enough. Of course, the reason it's taking so much time is that I'm doing all the construction work myself. It could probably have been finished by now if we had paid others to do the work. However this would not only have been more expensive, but I'm not sure whether the end result would have been satisfactory. We've noticed that nowadays, the concept of having pride in your work seems to have disappeared.
Did I mention that we have two new hens? Black ones this time. Well, it will soon be time to start refreshing the flock. One of the oldest hens has stopped laying, so is destined for the pot. And Mrs. Bunny has produced her fifth litter; we're not too sure yet how many there are, but we suspect there are two. Which is not much considering why we are keeping bunnies in the first place. We have one young female left from Mrs. Bunny's previous litter, and we think it may be time to refresh the bunny population as well. This female will become the new Mrs. Bunny, and I'm afraid the old Mrs. Bunny will become a stew once her current litter is old enough.
The bathroom shelf unit is now complete. It's not yet painted, but that will happen at one point. I've now moved my attention to making a panel for the side of the bath, also out of pallet wood. I think it will look rather nice if it's varnished instead of painted.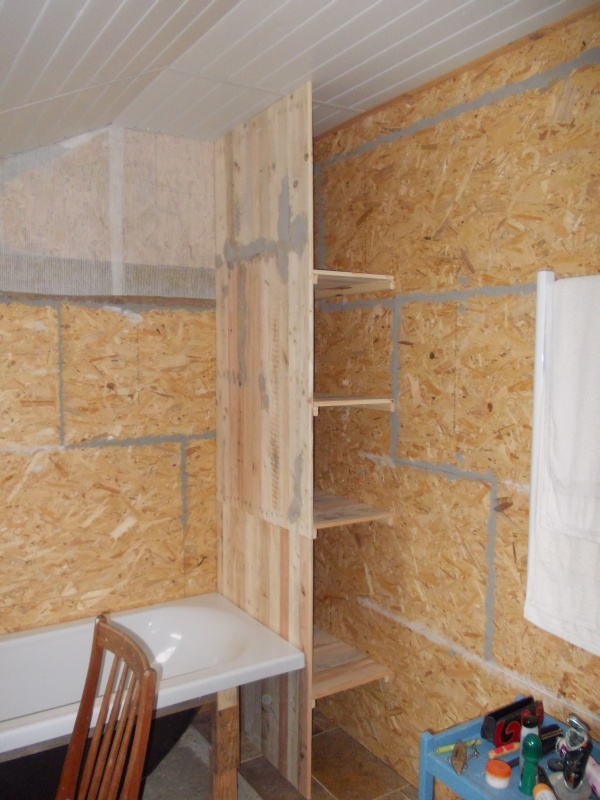 Friend V will be arriving this weekend for a few days. She's very good at gathering sloes or blackberries. Unfortunately there aren't any at this time of year, so instead we'll put her to work at gathering grass and plants for the bunnies to eat.
And as a Year 5 anniversary present (no, not really) M&O brought us a piece of boar.
It looks a bit different to the photo shown in the post of the 21st!