I hate waiting. If I ever have to be somewhere, I'm always at least 10 minutes early. If someone is coming to visit me at a certain time, I'm always on tenterhooks from about 20 minutes beforehand. So today is not a good day; the furniture is due to arrive. Sort of around lunchtime. Maybe.
LSS busied herself vacuuming the walls and ceilings in both rooms; the spiders had been doing their own decorating in both these rooms.
At this point we discover that the mobile phone reception at the property is – practically – nil. I finally manage to get a signal by moving into the middle of a field, and standing on one leg, with the phone held horizontally. The missed calls were from the driver of the removals lorry to say they have stopped to have lunch and should be with us by 1 p.m.
At around 1.15, the mobile phone rings again and then gives up as soon as I answer the call. After lots of manoeuvring, I finally manage to understand that it's the driver of the removals lorry again, saying he's uncertain of where exactly the property is. I had compiled a detailed map and emailed this to the office with the credit card details – but – of course, this information had not been given to the driver. I ended up taking the car to the junction with the main road and dashing out into the middle of the road as soon as I saw a lorry appearing. The first three were very surprised, having nothing to do with furniture deliveries at all.
But finally the lorry was parked at the entrance to the barn, and unloading could commence.
Everything was finally in place and we waved goodbye to the crew at around 4 p.m. Another telephone call was then received by LSS; the aged FIL is being released from hospital on the 29th; so it's time to vacate his premises and move the cat to her proper home, namely, here!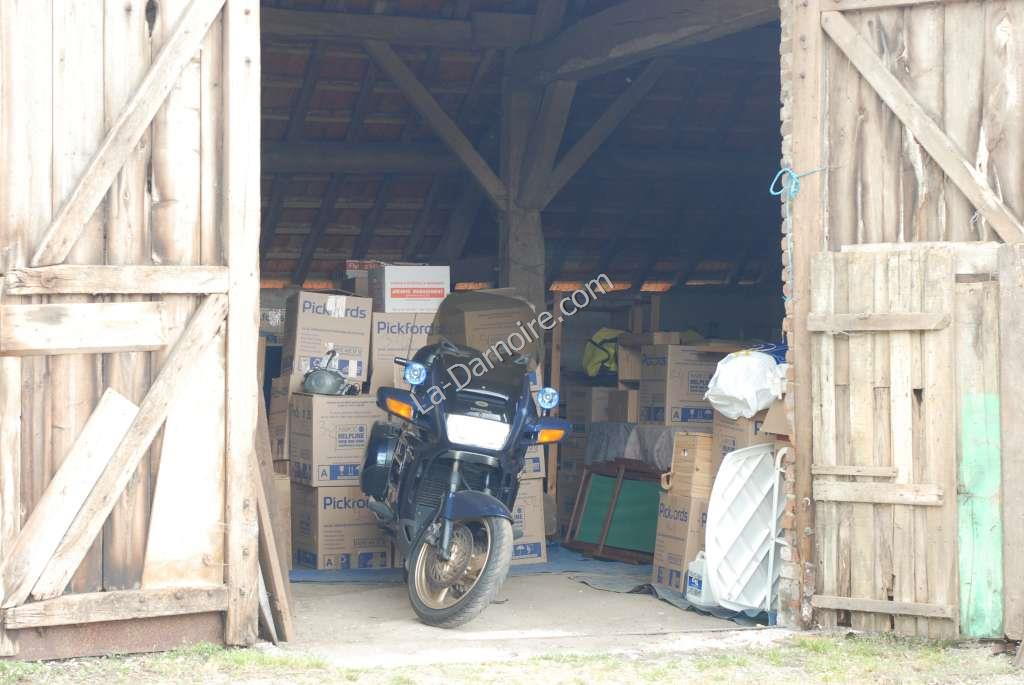 The barn containing all the packing boxes, furniture, and the ST1100.