As it has become known locally that we have four free-range hens which are not fed on anything genetically modified, chemically altered, or full of pesticides, several persons have now applied to be put on the waiting list for purchasing eggs. We therefore need more hens. It had been planned to purchase an additional two hens annually, but we've now reconsidered this schedule, and today we fetched two new youngsters. They will need to be kept separate from the original four birds for a week and then they can be put together so that the pecking order can be established.
I have been using a manual post-hole digger to install some stout fence-posts in Horse Field. These will be supplemented by an electric fence, of course. The next job will be to dig a trench for the pipes which will carry the water and electricity from the farm buildings to the field. I also need to dig a trench between the workshop and the closest ditch so that excess rainwater from the garage roof can be channelled away. I have decided against digging these trenches by hand; as the aged FIL has a ditch-digging implement which fits on the tractor we're going to see if we can get this ancient machine operational again!
Wildlife diary:
I went to water my bonsai the other day and although the watering can was full of water, nothing was coming out of the spout. So I peered in, and was surprised to see a little face peering back at me: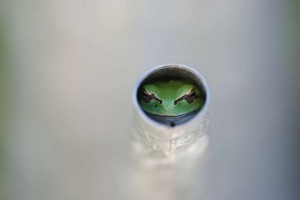 It's a good job we have several watering cans, because this one is now out of commission! I've since ascertained the occupant is a tree frog, Hyla arborea.